| | | |
| --- | --- | --- |
| | | |
| | The Freeze Frame story, in singer Steve Byrne's own words : | |

Ronnie Stone and myself first met in 1980/81. I was singing in a little punk/new wave band called The Posers, doing a lot of gigs around the North-West of England in pubs, bars and clubs. Our claim to fame was playing Erics' Club in Liverpool at Christmas time, on a bill organised by Skeleton Records, owned and run by a guy called John Weaver from Birkenhead. John ran a record shop as a front to some of his other 'businesses'.

Ronnie did some production work for Skeleton and was booked to run a session for The Posers. We were a group of friends with jobs and living with our folks, but it was a buzz. We did some great gigs and built up a strong local following, helping to lend some hope to our futures. Don't forget, this was at a time of Thatcherism and the devestation for working class communities in the UK.

Ronnie proved to be different class; With Next, Afraid of Mice and The Blank Tapes, amongst other successes already under his belt, he was that something that we/I needed. With Next Ronnie released one single ("Funny Lady") and completed an unreleased album produced by Rupert Hine.
He joined us for some gigs on guitar and we soon hit it off and became friends. He was a couple of years older than me, which is a lot when you are 19/20yrs, but he was a diamond. Brought up on the 50's and 60's tunes of his older sisters he really knew his stuff. A good self publicist, but a diamond all the same. I learned so much from him, mainly his approach to writing and his quiet way of getting things done. He has a sharp mind and doesn't suffer fools easily..... Probably why I haven't seen him in about 15yrs......... ha ha.... Seriously, he would make an ideal Manager or Impresario, his ability to big up the important stuff and not even mention the dubious stuff was fantastic. Particularily on the radio.... he was a fortified natural...

Ronnie Stone
His philosophy on writing was.... Just do it, it will get better.... We started writing together immediately, me sending him lyrics and he in turn furnishing me with cassettes of ideas and demos. He was very encouraging towards my early efforts and he helped me enormously.

He had a cellar in the house he rented in Oxton, Birkenhead.... no really he did.... and we worked there for months sorting through songs and ideas. I moved up to Birkenhead a little while later and got a first floor flat in the same house as Dave Hughes, from Dalek I Love You and O.M.D. The flat had previously belonged to Keith Hartley, the lead singer with Godot and much more, and I see his name crop up still. He engineered one of my favourite albums, "Bandwagonesque" by Teenage Fanclub.

There was a definite feeling that we were gathering momentum and getting some shape to our ideas.

We finally settled on the name Freeze Frame, in respect of our Godley and Creme fascination and we were off.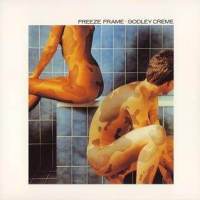 Godley and Creme : Freeze Frame (1979)
Before we settled on the name Freeze Frame, we did a few shows under the band name In a Glass Darkly, supported by China Crisis. I seem to recall, but you would have to check it out with Gary and Eddie, that these were amongst China's first shows. The gigs were in a club in Ellesmere Port called The Waverley, renowned for it's red light clientele.
"Touch" was our first single, on Crackin' Up. A guy called Dave Owens, also from Birkenhead, operated this short-lived but important little label from Temple Street in Liverpool City Centre. There were only 3 releases on the label all told, this single, the compilation cassette "Cracking Up At The Pyramid" (March 1982), and another single from a band called The Frantic Elevators. The lead singer was the soon to be famous Mick Hucknall from Simply Red.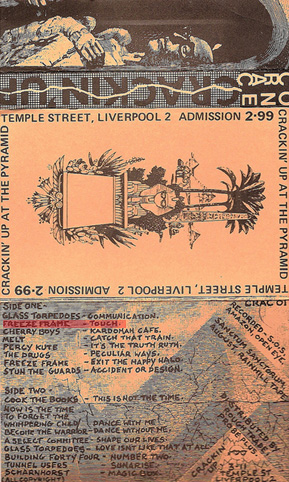 The cassette "Cracking Up At The Pyramid", with Freeze Frame`s "Touch" on Side 2.
The Crackin' Up 'office' was one of a number of rooms in an old grain warehouse, at different times used by Tim Whittaker the drummer from Deaf School, (he was a painter by this time), Steve Grace from Nasty Pop (making a living as a carpenter) and the later to be 'cult hero' Craig Charles, from the TV series Red Dwarf, plying his trade as a Poet.

The track sounds a little naive now of course but the re-recorded version, highlighted its qualities as a song.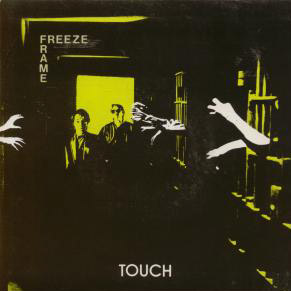 "Touch" was Freeze Frame`s first singlerelease, in 1982.
The time between the first and second singles was a real buzz. We had got to know Jerry Lewis - the owner and co-founder of Erics' Club in Liverpool. He was busy pouring resources into his new adventure, Amazon Studios, as a way of maintaining his development of Inevitable Records. They already had singles by Wah Heat, Dead or Alive and Dalek i Love You. Amazon was in Kirkby on the outskirts of Liverpool and we got mixed up with a rare bunch including the Glass Torpedoes and China Crisis.

We also met Gil Norton at this point learning his trade with an 8 track and later a 16 track machine. He would phone us with 'down time' hours at Amazon and we would head over from The Wirral. A perfect arrangement. He became a vital cog in our own 'Crucial Three'.

Gil Norton
We had worked previously with a little company called Cloud Nine Productions, run by two guys, Dave Roylance and Mike Glasspole. They were based in Amazon and produced a lot of jingle work for radio. Dave had been developing an idea for a concept album built around the ideas of 'Atlantis'. He went on to co-write the theme music for the popular soap opera Brookside and completed a concept album based around the stories of 'The Tall Ships'. Sadly, I heard recently that he had passed away.
We built up a body of work that would give us a real head start. We did a tour during this period as Godot, including Dave Hughes and Martin Cooper from O.M.D. almost incestuously supporting Dalek i Love You, with Alan Gill from Teardrop Explodes. We got involved in the building of a studio in Birkenhead with them at that time and were given some free studio time. It all helped to cement the 'Oxton Scene', a different animal than pure Liverpudlians. We also had Lizzie Johnson from The Passage - a Manchester band - working with us as a backing vocalist. Another Oxtonite.

The whole thing suddenly ratcheted up. Jerry did a deal with RCA to lease the Inevitable label.... invested in a 24 Track, Solid State Logic Studio, and we managed to secure a publishing deal with Hit and Run/April Music, the company who run 'Genesis'. There was a bit more money around and we paid for some decent photos to be done by a guy called Tom Wood for the "Foxhole" sleeve and had a bit more cash to pay Steve 'Jacuzzi' Hardstaffe, another of the Birkenhead set who did all of our sleeves.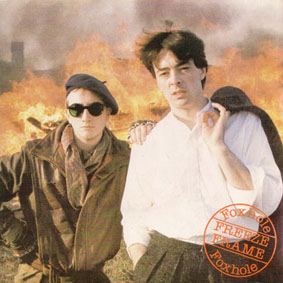 " Foxhole"
Clive Gee joined us at that point (on keyboard) from Afraid of Mice. I remember his audition at Ronnies place and he got the job as much for his flexibility and genuineness as a person, as he did for his musical ability. He fitted in and he was a big asset in terms of technique and ideas.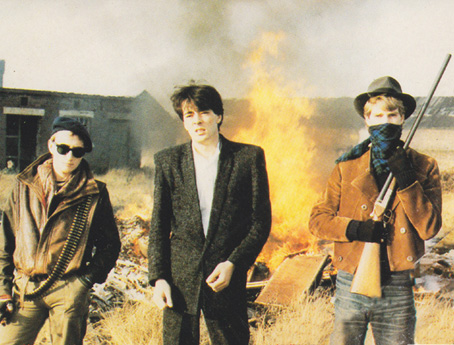 Freeze Frame : Ronnie Stone, Steve Byrne and Clive Gee.
We started getting some airplay and did a John Peel session for the BBC (26 March 1983). That was a real highlight for me. We had also started to work with Dave Bascombe who had had some success with Tears for Fears. He was a really decent guy and again, someone I learned an awful lot from. We went down to his place at Livingstone Studios in Wood Green in London and he came up to Amazon.

R.E.M. were working at Livingstone on "Fables of the Reconstruction", at the time. I would love to say we got along real fine but we never even met them. Gutted. I do remember meeting an Irish band there, called 'The Blades', and meeting Billy J. Kramer in the kitchen over a cup of tea.

A lot of the work for "Seeking Professional Advice" was done at Livingstone but, the bulk of the session overdubs and all of the extra tracks for the 12" were done at Amazon. We contemplated a 'Cultural' idea for the songs but this work in progress was temporarily shelved, when the A side started to become obvious. Our old friends 'The Posers' got due recognition on the sleeve for past times, as the original version of "Seeking Professional Advice" was recorded at that first session, overseen by Ronnie.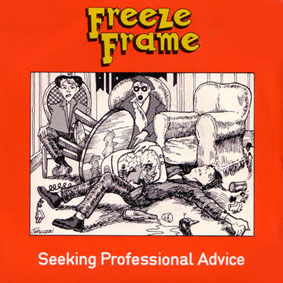 "Seeking Professional Advice"
In the gaps between releases Ronnie was doing a range musical jobs, including working with the Irish band Auto da Fe, and filling in for China Crisis. He was also demoing Vox AC 30 amps and wangled himself a beauty. He was also doing casual work for a friend of his - Cliff - who owned a dry cleaner business. What a guy.
I was busy making whatever cash I could on labouring jobs and in factory work. I had three kids already and on the way to having five in all. There was a little money from the publishing but not enough for us to live on.

We also managed to continue to do some gigs and at various times played at The ICA for a Capital Radio Session, The Marquee and The Venue - all in London, as well as some shows supporting Fat Larrys' Band. That was a great mix. Their orange flares and our punky tight leathers…. mmm.
Our trips to RCA at the time were legendary when it came to helping ourselves to the new releases in the Press room. We also did another BBC Session (22 March 1984), with Kid Jensen, a Canadian DJ who was popular for his eclectic approach to his playlists. His show segued into Peels Radio One show on weekday evenings.

We returned to our first single "Touch". It was a great song and deserved another chance to be recorded. We were becoming predominantly studio based as Freeze Frame, despite the occasional shows. We fleshed out the new wave sounds of drum machines and Ensonic keyboards, as the undertow to the next batch of songs. Mixed with real session players the songs found a natural rhythm, based around the concept of 'Touch'.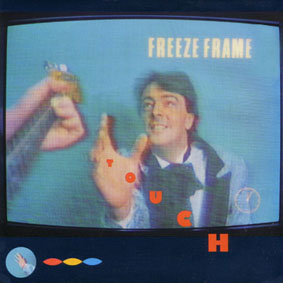 "Touch" was re-released in 1985, in a new version.
Ironically, we were supposed to be the 'album' artists when Inevitable was leased over to RCA. One of the other bands signed at the same time - A Box of Toys - were single focussed. Our material just kept getting the nod for release. Their track - "Precious is the Pearl" - is glorious though I must say.
We recorded a version of "Life is Just a Game" - the original "Touch" B-Side at the same time, as well as other tracks for a hoped for album. Ronnie had been on holiday to Turkey where his' brother in law' taught with his Turkish wife. While he was there he bought a 'saz' guitar and quietly wrote some musical pieces for it. It is one of those that you can hear on "Where's The Girl".

There was a part of us that felt a little unhappy here and there, with regard to the role of the record company and advertising and distribution, as well as the changing relationship with Inevitable as Jerry became more emboiled in the politics of his job.
Effectively, he owned the studio where his artists did their recording and he got paid for releasing the records on the company he owned. Nice work if you can get it.

He didn't break our balls though, he allowed us full artistic freedom with cover design and rarely questioned the choice of material. Where we failed if at all, was to not take advantage of delivering it to the next level. An album. That was a big desire.
I think that the Inevitable Label itself needs to look at why it didn't capitalise on its undoubted potential. With regard to the historical releases, it had a stable of artists that warranted attention and in real terms could create revenue. In busines terms, you would think, a Win/Win arrrangement.
It was in the interest of the record company not to have hits. That sounds like sour grapes, but it was my observed opinion. Everyone in that situation made money.... except us. Little labels like Inevitable have assets to set aside for tax reasons. Certainly when there is a 'parent' company involved. Unless there is a huge hit it probably isn't worth the grief. Certainly at that time.

That could certainly said of "Foxhole", by far our biggest success and peaking at No 105.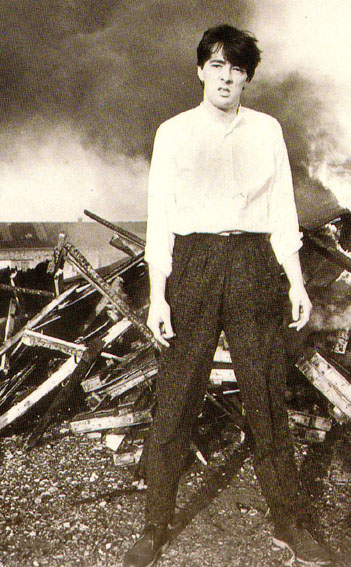 Steve Byrne
Jerry himself oversaw the final 12", "Today Tomorrow". I really enjoyed the recordings, using some horn players on "Only a Boy" who were fantastic and the incredible Linda Wright singing a duet on "It Makes Me Cry". I'd love to say I made a real day of it with Linda but, to my loss we did our vocals on different days. My singing voice had relaxed a little and I was feeling more confident in myself. We did another bunch of gigs, attracted some airplay as always but it was getting to decision time. RCA didn't pick up the option, we managed to squeeze out of our publishing arrangements and despite not being able to fulfil all of our goals, we were relatively unscathed in the great scheme of things.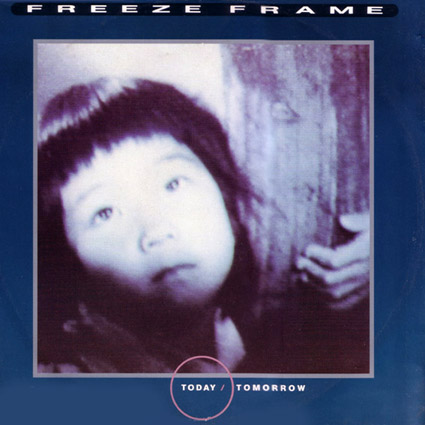 "Today Tomorrow" (1985)
We continued on for another year or two as Push Button Pony, teaming up with some old friends from Liverpool, Andy Redhead and Jon Corner from A Select Committee and 3D A Fish in C respectively. The name Push Button Pony came from a slang term for ' acting horses ' trained for, and used in movies.
We did a bunch more gigs and recorded an album worth of demos for a little French label called Carrere. The tunes were excellent and we did some more radio but Carrere didn't bite and we had to make some decisions.

I applied for college to do my degree in Youth and Community Studies and Ronnie continued on in whatever role he could pick up, either as a producer, engineer or guitarist. He originally came through art school and had lots of options. He is still doing it now.

The missing tune "Culture Won't Wait" had become available on "Small Hits and Near Misses - Inevitable Sampler Album" (compilation, 1984). It was great to see an album full of artists we had grown together with, finally get an overdue label release in LP form.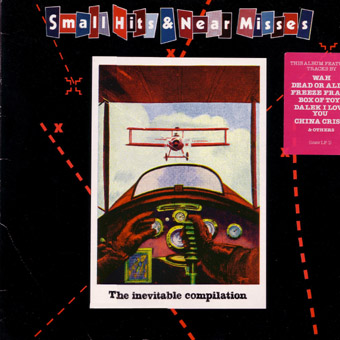 "Small Hits and Near Misses - Inevitable Sampler Album"
Ronnie and I only saw each other occasionally from that point on. After qualifying from college, I moved into my current work and I used to pop around to Ronnies to drop off a bagful of condoms that I used to get free through work. He sure seemed busy enough with that.

The final track on the 'Imaginary' CD (see below) came out under the name Someone in case of any hangovers from previous publishing arrangements, and was released on "The Invaders - Inevitable Sampler Volume 2".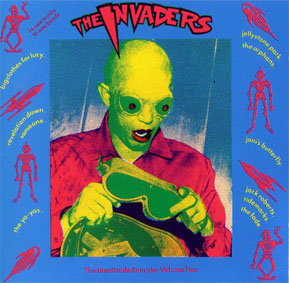 "The Invaders - Inevitable Sampler Volume 2"
Ronnie was working out of a studio near Chester, belonging to Bobby from the 70′s Cabaret outfit, The Black Abbots, (The band that spawned Russ Abbot).
I am not sure whether this ever got an official release but it does exist, 'INEV 19′, as I have a copy myself. We shot a video in the studio to accompany the track but I don't remember ever seeing it. I would love to.
It was predominantly artists that Ronnie was producing or otherwise working with and is well worth listening to. Jack Roberts, an artist we had both worked with, 'The Tidemarks', 'The Orphans', 'The Fade' all come to mind.

I haven't seen him now for about 15 years, like I say, although I hear mention of him here and there and smile with satisfaction when I see him credited with some new release or other. I was working in a little studio in Wrexham, run by a guy called Nino, and he knew Ronnie well and our history. I was able to pass on my regards. I don't know whether he got them.

I played on intermittently throughout the early '90s with a band called Slaves Again, writing another batch of tunes and playing a lot of local gigs but never looking to release anything with serious intent. I moved up to North Wales in 1998.

I set about writing and recording a whole new set of material, as a somewhat cathartic approach to my first marriage going under. It was certainly that. That material is available under the name, "More Songs About Kitchens and Stairs.... The Llay Tapes 1998 - 2003".

It is a flurry of material, made during a series of congregations with musical friends and family. Usually involving a good helping of red wine. It is due to be released in early 2012, under the name "The Jazz Cigarettes".

From 2000, I began doing some gigs with some other friends who were well established as The Chester Poets. They had had a lot of their work published and had developed a musical sideline as 'Celtic Spirit'. They wrote a 'Celtic Opera' over a period of years and I was proud to have the role as 'The Dark Power', when it was performed a number of times in Chester.

So there you have it. I got married again in 2006 and haven't written a song since. That's not quite true actually, I have written a dozen or more but only just recently started to draw them together for finishing and recording.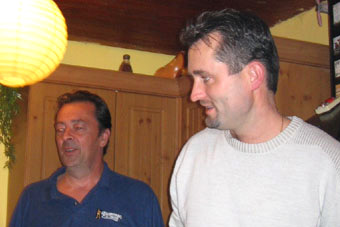 Steve and Jon Arne (The Webmaster of this page) in a picture from 2006.
I met up with my friend Rob Riley, a co-survivor of "The Llay Tapes" only last week and we got two tracks down during an afternoon when I was off work. One is called "Motown Stranger" and the other is a gospel piece, written as a replacement for the Old Rugged Cross…. Ha Ha.
Seriously, I seem to go to a lot of funerals as I get older and its about time we had a new funereal option. It's called "Please Go On". Both songs will get an early airing through the 'MasterBakers' Facebook page as soon as they are ready.
| | | |
| --- | --- | --- |
| Stephen Joseph Byrne, December 2011 | | |
In 2018 and 2019 Cherry Red Records released two compilation boxes of songs that was recorded by Liverpool bands in the late 70's/80's.
"Revolutionary Spirit: The Sound Of Liverpool 1976-1988" was a 5 CD compilation with recordings from 1976-1988. With songs from bands like Dead Or Alive, Deaf School, A Flock Of Seagulls, O.M.D., China Crisis and Freeze Frame. Steves band was represented with the song "Touch" (1982 version).
"Revolutionary Spirit: The Sound Of Liverpool 1976-1988"
"Birth Of A Nation: Inevitable Records – An Independent Liverpool 1979-1986" was a 3 CD compilation of songs that was recorded on Inevitable Records between 1979 and 1986, and Peel Sessions recordings by Liverpool-bands between 1981 and 1983. Freeze Frame was represented with 14 songs: "Your Voice" (1982 version), "Conversation Piece", "Foxhole", "Furnished Heart", "Seeking Professional Advice", "My 10,000 Mile Home", "Touch", "Personal Touch", "Today, Tomorrow" and "Only A Boy". And 4 songs from the Peel Sessions.
The version of "Touch" on the compilation was not recorded and released on Inevitable. Steve Byrne: "The version of 'Touch' included, is the original 'Crackin' Up' version and not the Inevitable re-recording. A sloppy mistake."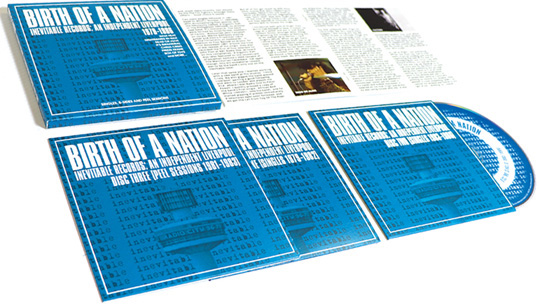 "Birth Of A Nation: Inevitable Records – An Independent Liverpool 1979-1986"
For Steve who always had dreamed about a digital release of Freeze Frames 80's songs, this was a big moment. The Compilation CD was also like the Freeze Frame album that never was.
In 2019 Freeze Frames song "Your Voice" was also included on the 4 CD compilation "Electrical Language: Independent British Synth Pop 78-84".